GM Wants to Apply eBoost Braking to Trailers, RVs
Last year, General Motors came up with a new electronic braking assist system called eBoost. It found its way into a few models including the all-new 2020 Chevrolet Corvette as well as the 2020 Chevrolet Silverado and GMC Sierra full-size pickups.
Basically, the system integrates the master cylinder, electro-hydraulic booster and ABS modulator into a single unit (no vacuum booster or vacuum pump is needed). Brake pressure and pedal feel are increased and this can all be adjusted electronically based on the drive mode.
Now, the automaker wants to go one step further by applying the eBoost system to trailers and RVs in an effort to reduce braking distances, particularly during descents.
It's still a concept at this point, but GM engineers have already conducted various tests and the results are impressive. With eBoost systems on both the truck and trailer and proper software to enable communication, they managed to shorten the stopping distance of a truck and trailer by up to 20 percent from 96-0 km/h when compared to an identical truck and trailer using traditional electric trailer brakes—a difference of about 12 metres.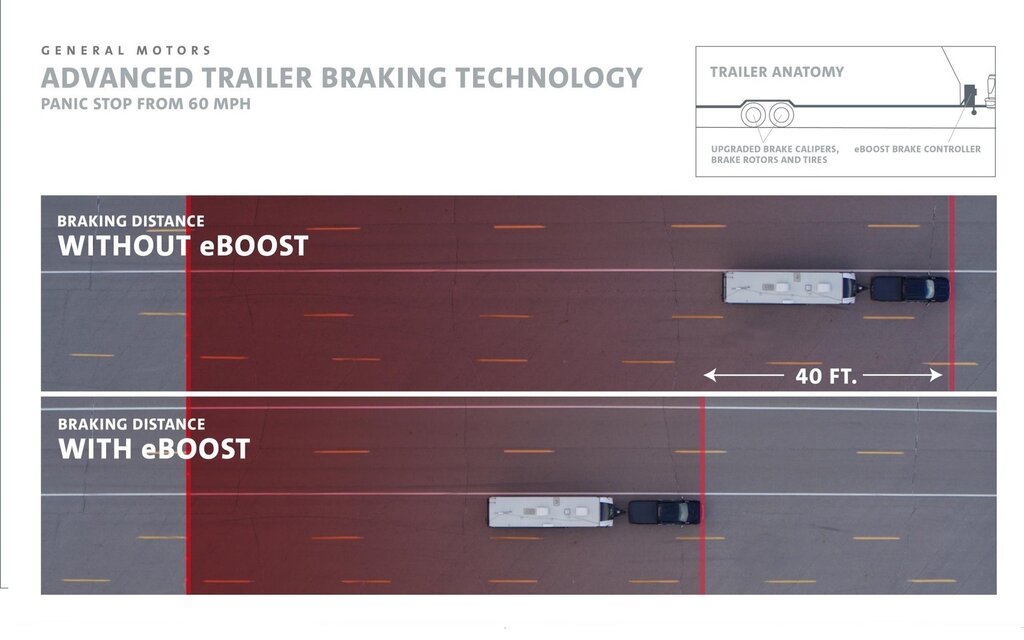 In fact, GM says the combined systems allow a truck and trailer to stop in the same distance as a truck by itself at its gross vehicle weight rating.
This pioneering technology also allowed the truck to command trailer braking like never before, using the existing seven-pin trailer wire connector and without the need for any extra connections. It can mitigate trailer sway by using stability control, too.
Of course, no trailers on the market right now have the same capability. GM continues to partner with organizations like North America Trailer Manufacturers and Recreational Vehicle Industry Association to explore possible avenues.
In the meantime, customers buying a 2020 Sierra or Silverado can benefit from improved towing technologies including up to 15 unique camera views, one of which is a segment-first transparent trailer view to help optimize the driver's view around the truck and compatible trailer.