2020 Lexus GX: What Retirement?
LIBERIA, Costa Rica – In a world filled with car-based crossovers with turbocharged engines or hybrid powertrains, the Lexus GX sure feels archaic. The clash is especially noticeable alongside the brand's own seven-passenger RX L.
If body-on-frame utility vehicles with thirsty V8 engines are considered a thing of the past, why is Lexus still selling the GX? Or the even bigger Lexus LX, for that matter? Because people are still buying it.
And as long as the North American market adopts the GX, it'll stay. It must be said that its production costs should be very low, and the SUV is sold in other markets with a Toyota badge. One such market is Costa Rica, where the Land Cruiser Prado—the GX's mainstream counterpart—can be frequently spotted on the road. That's where we took a brief spin in the 2020 GX, during the Lexus Milestones event that celebrated the brand's 30th anniversary.
The current-generation GX was introduced in 2009 as a 2010 model, but its styling didn't differ too much from the first-gen model that was sold from 2003 to 2009. Needless to say, with its short wheelbase, narrow body and long overhangs, it's clearly obvious that the overall design was green-lighted in another era.
The 2020 Lexus GX keeps that original styling, but boasts new grille, three-projector LED headlight clusters and clear-lens taillights, among other minor details. Good luck spotting a 2020 model on the road. Then again, the SUV's looks aren't as important as its capabilities.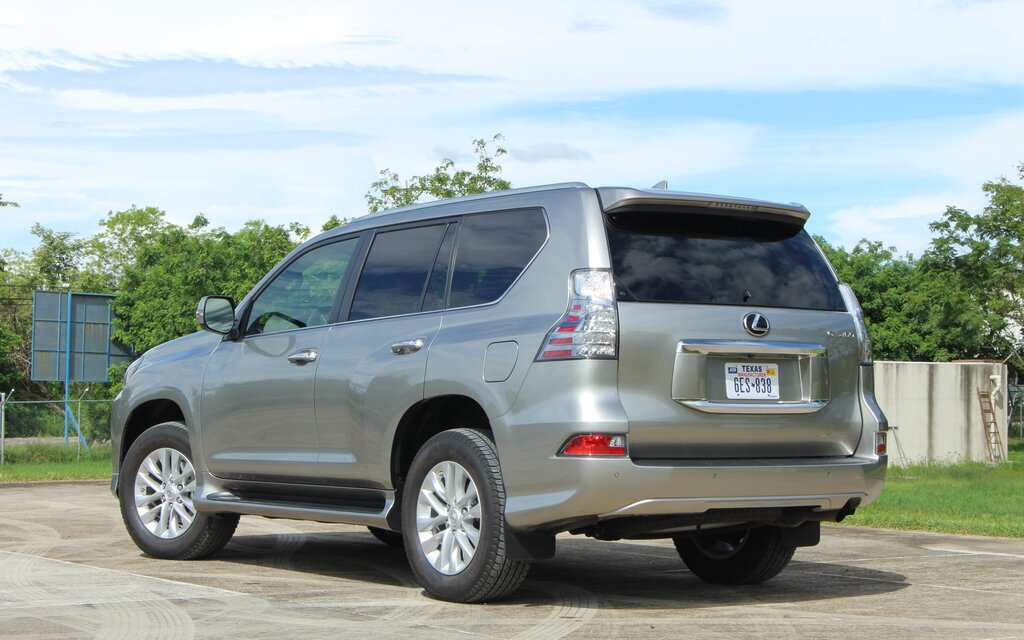 Off-road Cred
The GX is equipped with a dated powertrain to go with its dated appearance. The 4.6-litre V8 is teamed up with a six-speed automatic transmission, developing a modest 301 horsepower along with 329 pound-feet of torque. Several manufacturers currently build 2.0-litre, four-cylinder engines with more power and torque.
With city/highway fuel economy ratings of 16.0/12.9 L/100 km, the V8 is mighty thirsty and super unleaded is required too. The green ECO indicator makes us chuckle every time it lights up in the instrument panel when we lift our foot from the throttle. There's little to brag about here, but the GX 460's powertrain is virtually indestructible, which helps the SUV hold its resale value for a long time.
Maximum towing capacity is set at 2,948 kilograms (6,500 pounds), which is good, but the German midsize competition—namely, the Mercedes-Benz GLE, the Audi Q7 and the Porsche Cayenne—can tow up to 3,500 kg (7,716 lbs).
On the road, the 2020 Lexus GX feels heavy and top-heavy, and the V8/six-speed combo is in no hurry to downshift and climbs revs when passing power is summoned. This vehicle is all about smoothness and refinement, and at wide-open throttle, the engine lets out a hushed, but satisfying growl that can't be matched by four- or six-cylinder mills. The adaptive suspension with its electronically controlled dampers does an excellent job of absorbing road imperfections. The GX is much more comfortable than the aforementioned Bavarian SUVs with their sport suspensions and low-profile tires, if that's what we're looking for.
We're wondering which Lexus GX owners asked the company for enhanced off-road capabilities—or even who actually shoves a GX off the beaten path in the first place—but the 2020 model is now blessed with Multi-Terrain Monitor and Panoramic View Monitors. They basically consist of a bunch of cameras allowing us to better see what type of surface we're tackling in tricky off-road situations.
That's in addition to the vehicle's full-time, four-wheel drive system with low range, its Multi-Terrain Select system and its Crawl Control feature. In a nutshell, the GX is a better choice than the RX L if the road to our cabin in the woods is a challenging one.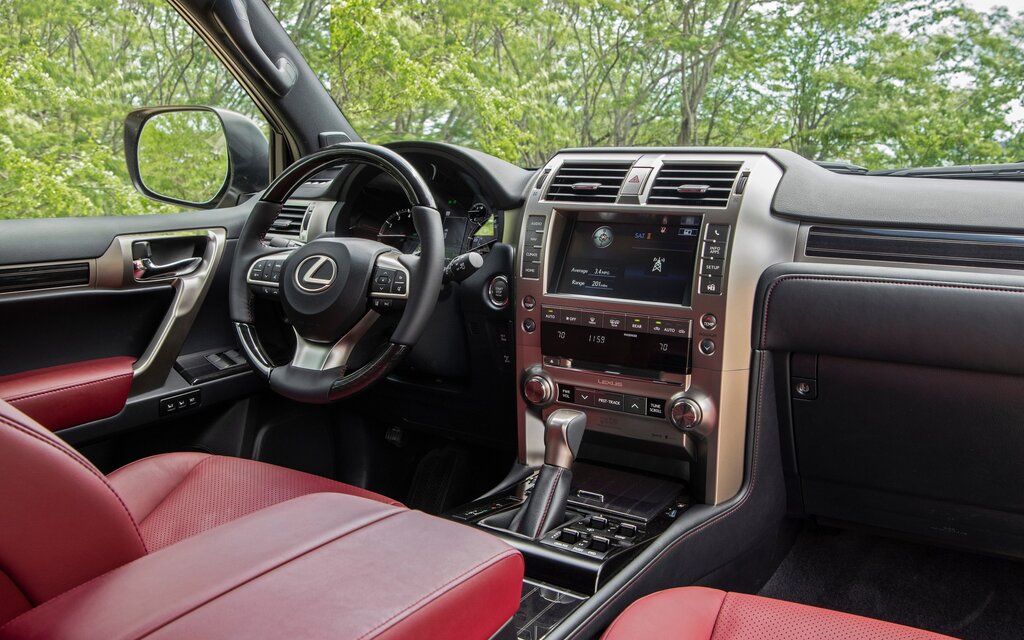 Posh Cabin
The GX's cockpit is obviously dressed up with high-quality materials, such as perforated leather upholstery and genuine wood trim. For 2020, Mahogany is replaced with Gray Sapele trim, along with aluminum accenting, and there are now four leather colours to choose from, including rich-looking Rioja Red.
As before, standard features for the Canadian market include a heated steering wheel, heated and ventilated front seats and a 17-speaker, Mark Levinson surround sound system. The infotainment system isn't as modern as those found in more recent Lexus products, but that's actually not a bad thing, as we're not stuck with the distracting Remote Touch interface. On other hand, Apple CarPlay and Android Auto integration isn't available.
Adaptive cruise control, pre-collision warning and braking with pedestrian detection and lane departure warning—which used to be optional features—are now standard, along with blind spot monitoring, rear cross-traffic alert and automatic high beams.
Of course, interior dimensions haven't changed, and that's one of the GX's weak points. While space is good in the first two rows, occupants in the third row could benefit from more legroom. Those rearmost seats can be folded down electrically, but maximum cargo space reaches only 1,833 litres. Many compact SUVs are more versatile than the big Lexus.
Pricing will be announced closer to 2020 GX's on-sale date this fall, but the 2019 edition is priced from $74,400 to $82,350 before freight and delivery charges. The changes applied to the 2020 Lexus GX are certainly minor, and don't necessarily make it a better choice in its category. There are plenty of more efficient, more spacious and more stylish luxury SUVs out there, but the GX offers rational stuff like bulletproof reliability and strong resale value. If we're to keep our SUV for a very long time, this one is worth considering.
Evaluation
Test model
2020 Lexus GX
Trim level
N/A
Base price
N/A
Price as tested
N/A
Warranty (basic)
4 years / 80,000 km
Warranty (powertrain)
6 years / 110,000 km
Options
N/A
Competitive models
N/A
Strong points

Might never break
Very comfortable ride
Luxurious cockpit

Weak points

Heavy fuel consumption
Not much cargo space
Archaic design
Editor's rating
| | |
| --- | --- |
| Fuel Consumption | |
| Comfort | |
| Performance | |
| Infotainment System | |
| Driving Experience | |
| Overall | |