2019 Ram Heavy Duty : There's a New Big Guy in the Ring
LAS VEGAS (Nevada) – In the heavy-duty truck segment, numbers are everything, especially torque numbers, and the 2019 Ram Heavy Duty doesn't disappoint: 1,000 lb.-ft., a 35,100-lb. (15,921-kg) max towing rating, and a 7,680-lb. (3,484-kg) payload capacity.
Indeed, FCA's latest rig is strong and ready to take on rivals such as the Chevrolet Silverado HD, the GMC Sierra HD and the Ford F-Series Super Duty. We were out in the Nevada desert, just outside Las Vegas, to drive it for the first time.
Taking off on a High Note
We'd be lying if we'd say we're not impressed about the new Ram 1500. After all, we did give it our Best Buy Award when it hit the market last year. It also took home the North American Truck of the Year award.
While we were comparing it against its main rivals, our entire team of journalists unanimously agreed that the Ram's best asset is its "wow" factor. Weather it's when you sit in its cabin, stab its accelerator pedal, tow a heavy load or fiddle with its infotainment system, the Ram is simply in another league.
For the Heavy Duty, FCA tries to raise the bar even higher, offering consumers two engine choices, three gearbox options, three different power outputs and up to six trim levels.
Unsurprisingly, it's the 6.7-litre, turbodiesel inline six, supplied by Cummins, that steals the show. Only offered on 3500 models – in simple or dual rear wheel configurations – and coupled to an Aisin-sourced six-speed automatic gearbox, it pumps out 400 horsepower and the highest torque rating in the segment.
The second version of that engine – offered as an option on 2500 and 3500 trims – develops 370 horsepower and 850 lb.-ft. of torque, will tow up to 22,740 lbs. (10,314 kg), and comes fitted with a six-speed automatic transmission developed in-house by FCA.
All Heavy Duty Rams, including the Power Wagon, come standard with a 6.4-litre HEMI V8 good for 410 horsepower and 429 lb.-ft. of torque. Towing for that one is rated by FCA at 18,210 lbs. (8,259 kg). It comes mated to an eight-speed automatic.
Between Canyons and Casinos
Reviewing trucks is always complex due to the immensity of variations they typically come in, but FCA had prepared us a well-put-together program where we were asked to drive from Las Vegas all the way to Red Rock Canyon, right smack in the middle of the Nevada desert, to take part in some towing and off-road sessions.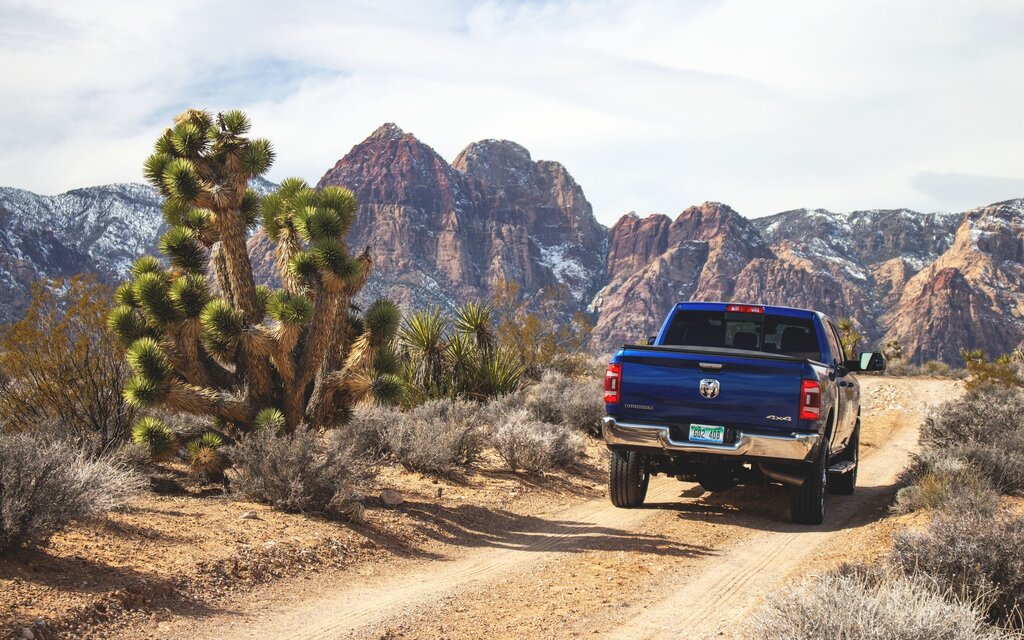 For the first section of the drive, we mainly focused on a Ram 2500 in Big Horn trim, powered by the standard-output Cummins engine, and fitted with four-wheel drive, a Mega Cab and a 6.4-foot box.
Just like the Ram 1500, the Heavy Duty is fitted with a stylish, comfortable and immensely spacious cabin. The Mega Cab has a useful extension behind the rear seats which adds substantial cargo space, and those rear seats will fold flat for increased practicality.
On the road, the roar of the Cummins diesel engine is instantly recognizable, delivering an overdose of torque, refusing to rev too high. Anyway, with a 3,500-rpm redline, there's no point. This is a workhorse fair and square.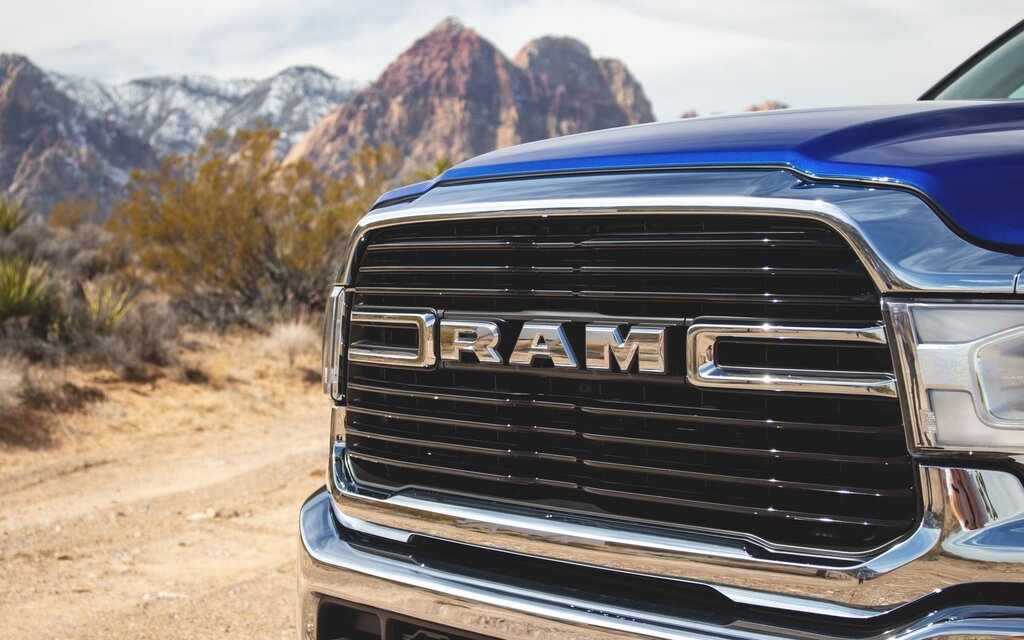 While strong, we were disappointed by this engine's immense turbo lag. Stomp the accelerator, and nothing happens for several long seconds. The upside of this is that there's so much torque, that it'll hustle its way forward in a smooth and consistent matter.
Big Trailers and a Lot of Sand
Once we arrived in the desert, we were asked to hop into the off-road-dedicated Power Wagon, by far the most amusing Heavy Duty variant. Powered by the 6.4-litre HEMI V8, this titan comes standard with an advanced four-wheel drive system, a lifted suspension incorporating FCA's patented Articulink system, skid plates, a Ward winch, as well as Tru-Lok differentials and a removable front sway bar, like what you find in a Jeep Wrangler.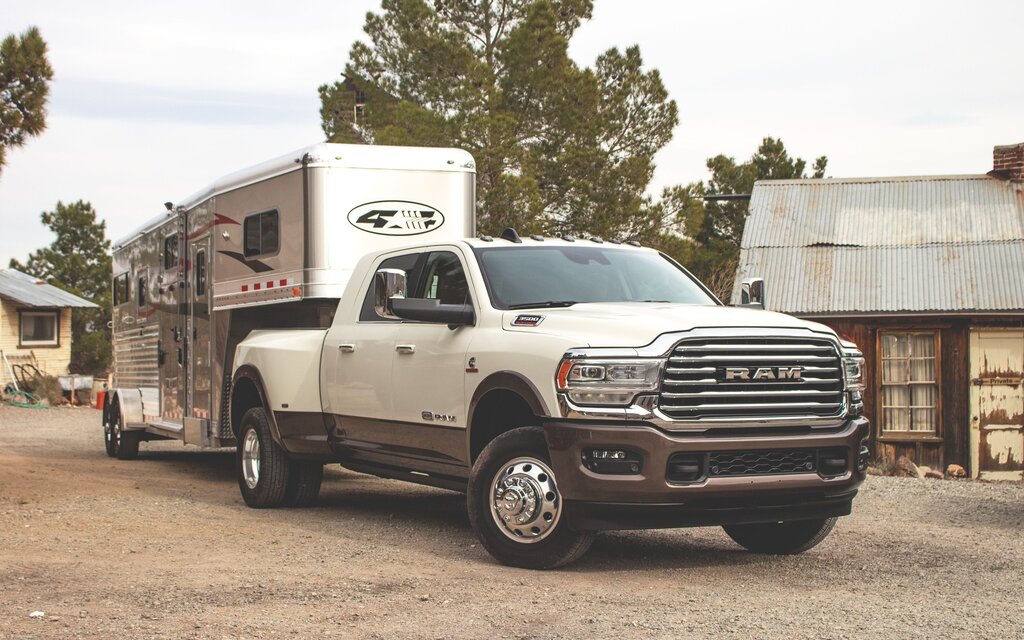 The trail was composed of dips, large holes and sharp rocks, allowing us to sample that new suspension, which allows the enormous 33-inch off-road tires to remain well planted on the ground, no matter the obstacle. That articulated suspension is a first on a truck of this size, and we appreciate the fact that FCA brought its off-road know-how from the Wrangler to the Ram.
"Bring Those Horses Back to Town"
Our adventure wrapped up behind the wheel of the Ram 3500 in Longhorn trim, one of the most equipped and expensive ones within the Heavy Duty lineup. Fitted with a dual-wheel configuration and tied up to an 11,000-lb. (4,989-kg) horse trailer, we headed back to Vegas.
The Ram Longhorn has by far the most impressive cabin. One of the Ram's best qualities is the immense diversity between its variants. Weather you opt for a Tradesman, Big Horn, Power Wagon, Laramie, Longhorn or Limited, each version is unique, fitted with different material quality and colour matching. On that aspect, the Ram surpasses its rivals.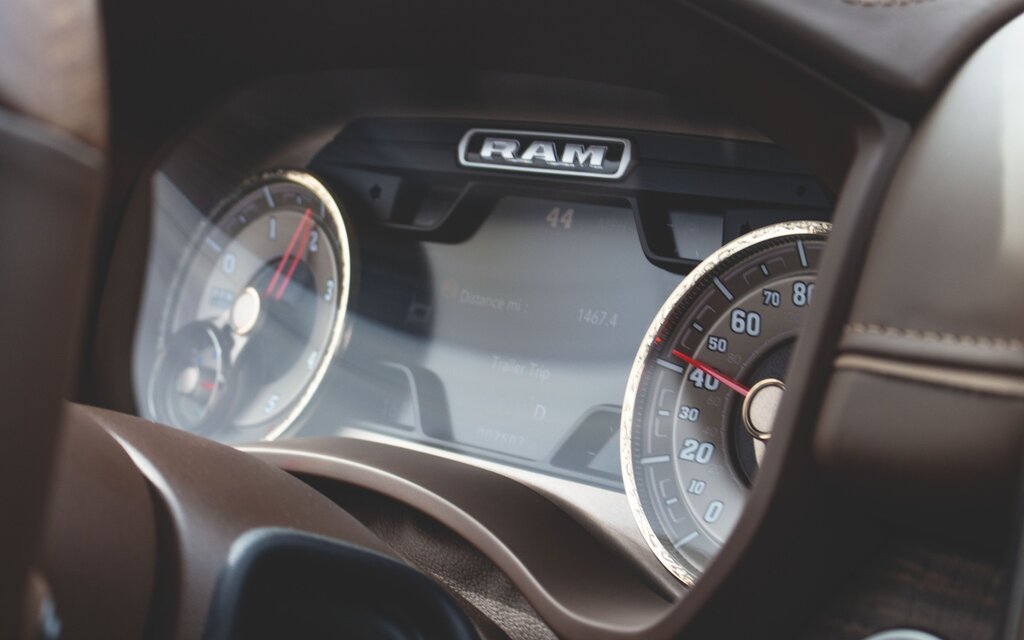 Inspired by American horse ranches, the Longhorn gets immensely comfortable leather seating surfaces, woodgrain trim, golden accents on the door handles and around the gauge cluster. It all looks richer and more upscale than the rest of the lineup.
Under heavy towing, the big Cummins engine never showed signs of weakness, gaining speed even in the steepest inclines. It's a smooth engine, doing its own thing without complaint. Don't even bother stomping the accelerator pedal for a downshift, because it won't budge, calmly reminding you it's got everything under control. By the time we got to our destination, we had completely forgotten we were pulling a five-ton trailer.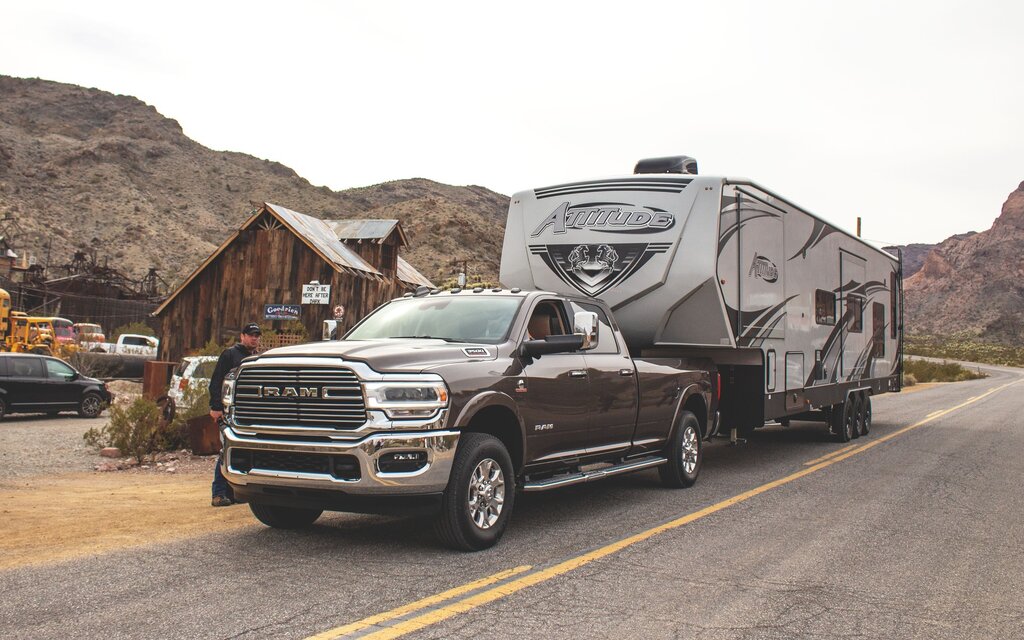 Of course, when observed alone, it's difficult properly evaluate the 2019 Ram Heavy Duty. We'll be able to properly assess how capable it is once we pit it against its main rivals when they hit showrooms this Fall.
Until then, we can't do otherwise than congratulate FCA for releasing one of the most impressive work trucks to date. From our point of view, the Ram HD may have already won the fight.
Evaluation
Test model
2019 RAM 2500/3500
Trim level
N/A
Base price
N/A
Price as tested
N/A
Warranty (basic)
N/A
Warranty (powertrain)
N/A
Options
N/A
Competitive models
N/A
Strong points

Torque for days
One of the highest towing ratings in the segment
Distinct trim levels

Weak points

Turbo lag (Cummins engine)
High fuel consumption (HEMI engine)
Can get expensive fast
Editor's rating
| | |
| --- | --- |
| Fuel Consumption | |
| Comfort | |
| Performance | |
| Infotainment System | |
| Driving Experience | |
| Overall | |