2018 Jeep Wrangler Sport Unlimited V6: Back to Basics
To my eyes, a Jeep Wrangler is best in its most basic form. No LED headlights, chrome trim, fancy wheels or leather seats. If you're going to commit to a Jeep, you get the base one, the one with two doors, a ragtop, and a stick. At least, that's how I see things, but what do I know?
When I got back from the Rubicon Trail, I had newfound respect from FCA's iconic off-roader, which, by the way, has just received a full redo through an entirely new platform called the JL. It may not seem like it, but yes, the Wrangler you see here is all-new from the ground up.
Anyway, my adventure in California's Sierra Nevada convinced me to test-drive the most basic 2018 Wrangler available on FCA's press fleet. I wanted to live with one on a daily basis. Sadly, a two-door wasn't available, and one with a stick neither. But FCA did have an Unlimited Sport with the V6—the most basic four-door Wrangler available.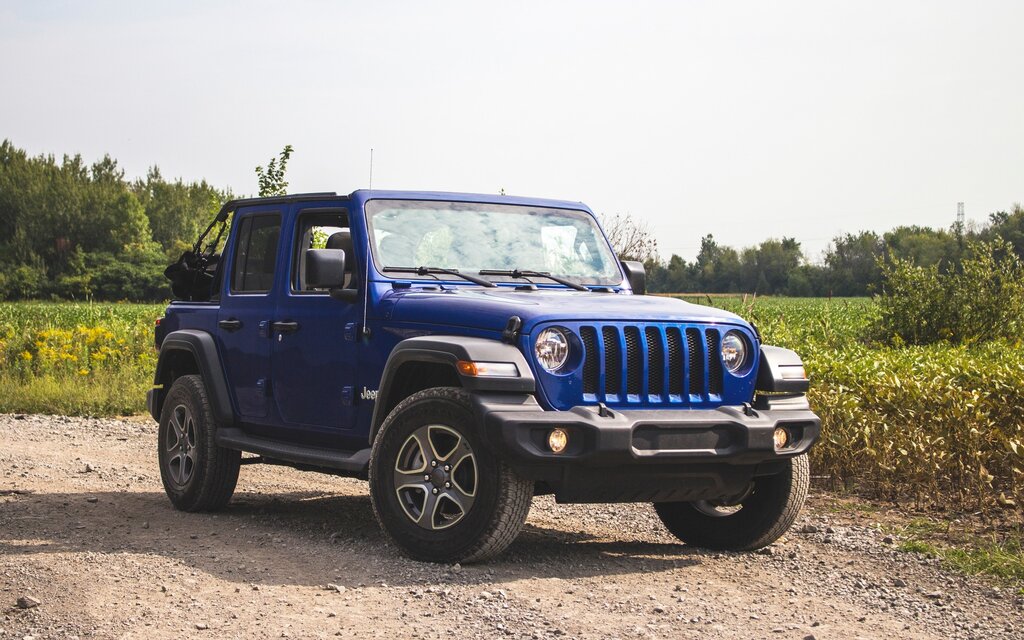 Same Blood, New Clothes
The rule of thumb over at Jeep when redesigning a new Wrangler is "don't screw it up," meaning the vehicle must still remain a Jeep, true to its roots, and retain the core values that make this icon the defining machine for an entire brand. Like the Porsche 911 or the MINI 3 Door, the Wrangler can and must allow itself to remain true to its origins while the brand explores other, profit-making vehicles.
Because if the Wrangler is no longer a Wrangler, the Jeep brand would simply crumble.
That's why, when you first set eyes on it, the new-for-2018 JL doesn't look much different than, well, all the Wranglers that came before it. However, the changes were made where it counts. For starters, notice how the windshield is more laid-back than the previous model? That's for aerodynamics, but not so much so to offset the vehicle's classic proportions. Or as Jeep's own designer put it, to "make the Wrangler look silly."
Jeep engineers also took the opportunity to move the vehicle's overall cabin forward thanks to a slightly longer wheelbase, both for two- and four-door models, to maximize passenger space—up to one inch more rear legroom on the four-door, actually. The turning circle has been tightened, great for mall parking lots and off-roading. Ground clearance has also been raised.
Essentially, this Wrangler is longer and wider than ever before. The grille, bumper, and headlight treatment is all new, believe it or not, and the interior has been completely redesigned, with improved build quality and available creature comforts such as a heated steering wheel and an updated version of the Uconnect infotainment system.
This larger Jeep still sits on a ladder frame, but it now uses more high-strength steel, allowing the engineers to reduce the number of crossmembers required to stiffen it up, resulting in a 100-lb (45-kg) overall weight reduction. The JL also incorporates aluminium for its doors and hood, as well as a magnesium tailgate skinned in aluminum. This all contributes to easier manipulation of removable parts, a traditional Wrangler trait.
The soft top was also redesigned for better airflow, but also to be more easily removed and put into place. While it's still a commitment to go full convertible in a Wrangler, taking several minutes to get a roof over your head once the rain starts pouring down, the new ragtop makes do with less Velcro and zippers and more nip and tuck rubber seals, facilitating the entire experience.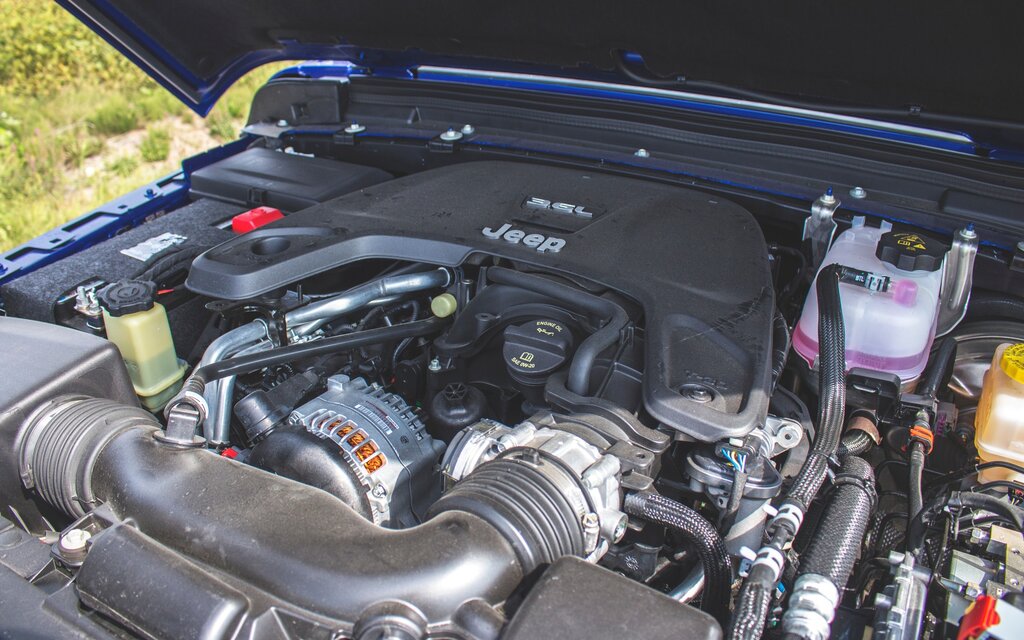 More Engines
Also new to the party is the addition of an all-new, 2.0-litre, turbocharged four cylinder, coupled to a mild hybrid system FCA calls eTorque. It's a precursor to a potential hybrid Jeep, and it pumps out a stout 270 horsepower and 295 lb.-ft. of torque. Jeep also speaks of an upcoming turbo-diesel, 3.0-litre straight six expected sometime next year.
My tester, the Sport, comes with the bread-and-butter 3.6-litre, Pentastar V6, an engine that has powered everything at FCA for almost a decade now. For the Wrangler, it's good for 285 horsepower and 260 lb.-ft. of torque. Notice how it makes 35 lb.-ft. less than the four-pot?
Anyway, two gearboxes are offered, either an all-new, Aisin-built, six-speed manual that replaces the defunct Mercedes-based six-speed. Jeep promises a better insulated unit from vibration and noise. I wish I had that one in my tester, but I made do with the brand's ubiquitous, ZF-sourced, eight-speed automatic. Of course, all Wranglers come standard with four-wheel drive and a two-speed transfer case with 4x4 low.
Bob and Weave
So, Jeep says the new Wrangler is easier to live with every day, and that's true. But it's still a Jeep. That's both a good and a bad thing. After my adventure through the Rubicon Trail, I can attest that there are very few vehicles on the planet that can come out of a dealership, with a warranty, and climb rocks, get itself out of thick mud, and spread its wheels like a spider from one boulder to the next. This is an immensely capable machine.
But on the road, it's still a clumsy one.
The suspension has been recalibrated to quell the iconic "head bob" feeling of driving a Wrangler, and front and rear sway bars have been beefed up. Compared to the JK, it's improved, but compared with everything else on the road, the Wrangler is still rough around the edges, loud inside, bobbing and weaving when driven over a train track—for example—and not all that economical. I averaged 11 L/100 km while I had it for a week.
But hey, there's only so much you can do with two solid live axles, a body shaped like a brick, and a ladder-on-frame configuration. At least, that new dashboard design looks solid, all information is clear and easy to grasp, the centre stack has well laid-out controls, USB ports and auxiliary switches, and FCA still has one of the best infotainment systems in the business for being so intuitive and straightforward.
The V6 does an OK job to get the Wrangler up and going, but low-end torque is still a disappointment. The eight-speed automatic remains somewhat rough, emitting awkward clunks upon downshifts and sometimes sticking to a higher gear when requesting power. Let's say it gets the job done.
Essentially, the 2018 Jeep Wrangler is still itself in every respect: an iconic go-anywhere machine, a formidable open-top Sunday cruiser under the sun, and a fashion statement on wheels. Sadly, there's now a price to pay for being so distinguished, as all Wranglers witness a price hike this year.
I regret to tell you folks that the days of an affordable Jeep with no options are long behind us. At least, this new one, while more refined and in tune with today's expectations, can still rip its roof, windshield, and doors off and take on Mother Nature head on. That's a quality no other vehicle on the planet can brag about.
Evaluation
Test model
2018 Jeep Wrangler
Trim level
JL Sport S Unlimited V6
Price range
$28,945 - $51,335
Price as tested
$41,745
Warranty (basic)
3 years / 60,000 km
Warranty (powertrain)
5 years / 100,000 km
Fuel economy (city/highway/observed)
13.8 / 10.1 / 11 l/100km
Options
N/A
Competitive models
Toyota 4Runner
Strong points

It's still a Jeep
Well put together and attractive interior
Simplified roof operation

Weak points

Going convertible is still a commitment
All Wranglers are expensive now
Still a gas guzzler
Editor's rating
| | |
| --- | --- |
| Fuel Consumption | |
| Comfort | |
| Performance | |
| Infotainment System | |
| Driving Experience | |
| Overall | |